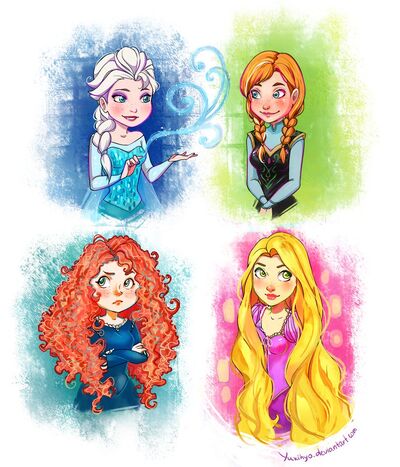 The Female Four (AKA The Four Seasons, 3d Princess or the CGI Disney Princesses) is a crossover between the three CGI movies Tangled, Brave, and Frozen. In this crossover, the main characters are Rapunzel Corona, Merida DunBroch, Princess Anna of Arendelle, and Queen Elsa of Arendelle (in some cases, Moana Waialiki from Moana, Princess Elena from Elena of Avalor and Raya from Raya and the Last Dragon are added in as well).
About the Fandom
This crossover most likely originated on Tumblr was probably inspired by the Big Four, specifically the Seasons Guardians AU. As the name implies, the four characters in this crossover are usually associated with one of the four seasons. Elsa is seen as Winter for her ice powers and cold nature. Anna is Spring for her "thawing love" and frequent association with flowers. Rapunzel is seen as Summer, because of her powers from the sun, her summer birthday, and because her kingdom's symbol is the sun (In some cases, fans prefer to have Anna and Rapunzel's seasons switched). Finally, Merida is autumn, because of her changing fate motif, and because her wild red hair resembles autumn leaves. While sometime after Moana became part of the fandom and the crossover (which is why it is sometimes known as the CGI Princesses), she is placed between Summer and Spring.
However, despite the seasonal motifs, this crossover is not always about seasons. Many fans think that these girls should be together anyway because of their shared identity—they are the only four/five characters in the Disney Princess lineup to be animated in the CGI format.
While this crossover is commonly merged with the Big Four, many fans prefer to keep it separate.
In the Wreck-It Ralph sequel, Ralph Breaks the Internet, the cameos of Rapunzel, Merida, Elsa, Anna and Moana are online avatar/netizen versions of themselves, with the other netizen Disney Princesses that Vanellope von Schweetz meets and befriends. Fans sometimes have the five wearing the modern, comfy style clothing that the netizen version of them wear in the film.
Popular AUs
Popular Ships
Featured Characters
Merida is the only member that is a Pixar character, as well as being the first known Pixar Princess. She is also the member that recusants the season of autumn, the most. Fans also have her resenting the warm season of summer, mostly for Seasons Guardians AU since the role of autumn is commonly given to Hiccup while Merida's season role in the AU is summer.
Elsa is the only Queen in the group and her ice powers is the reason why she stands for winter. As well as being the only member to recusant that season.
Known Examples
Fanfiction
Mockup Art
GIFS
Fanart
MMD Art
Cosplay
Videos