Jurassic World: Dominion Dominates Fandom Wikis - The Loop
Play Sound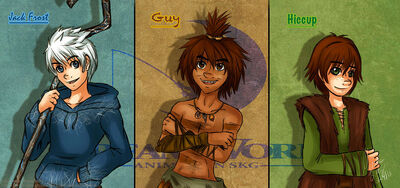 Dreamdorks (also called Rise of the Pre-Historic Dragons) is a crossover between the three animated CGI DreamWorks films; How to Train Your Dragon (2010), Rise of the Guardians (2012), and The Croods (2013). In this crossover, the main characters are Hiccup Horrendous Haddock III, Jack Frost, and Guy. While the crossover is not very widespread, it still has several loyal fans.
About the fandom
This crossover is fairly new to the fandom, and most likely started on Tumblr a short while after the release of The Croods. All three characters are male human heroes from recent DreamWorks films, and that is why most fans put them together, despite the fact that they canonly come from different time periods in history. Many fans believe that Guy would be a good addition to the group because he relates to both Hiccup and Jack: He is an inventor, like Hiccup, and he is also quite adventurous and optimistic, but lonely, like Jack. Fans also like to think that together, the three of them represent Aristotle's three modes of persuasion: Hiccup represents ethos (ethics), Jack represents pathos (passion/emotion), and Guy represents logos (logic).
Additionally, each character has a different eye color, providing their own differing color schemes.
Ship Names
Popular AUs
Known examples
Fanfiction
Mockup Art
GIFs
Fanart